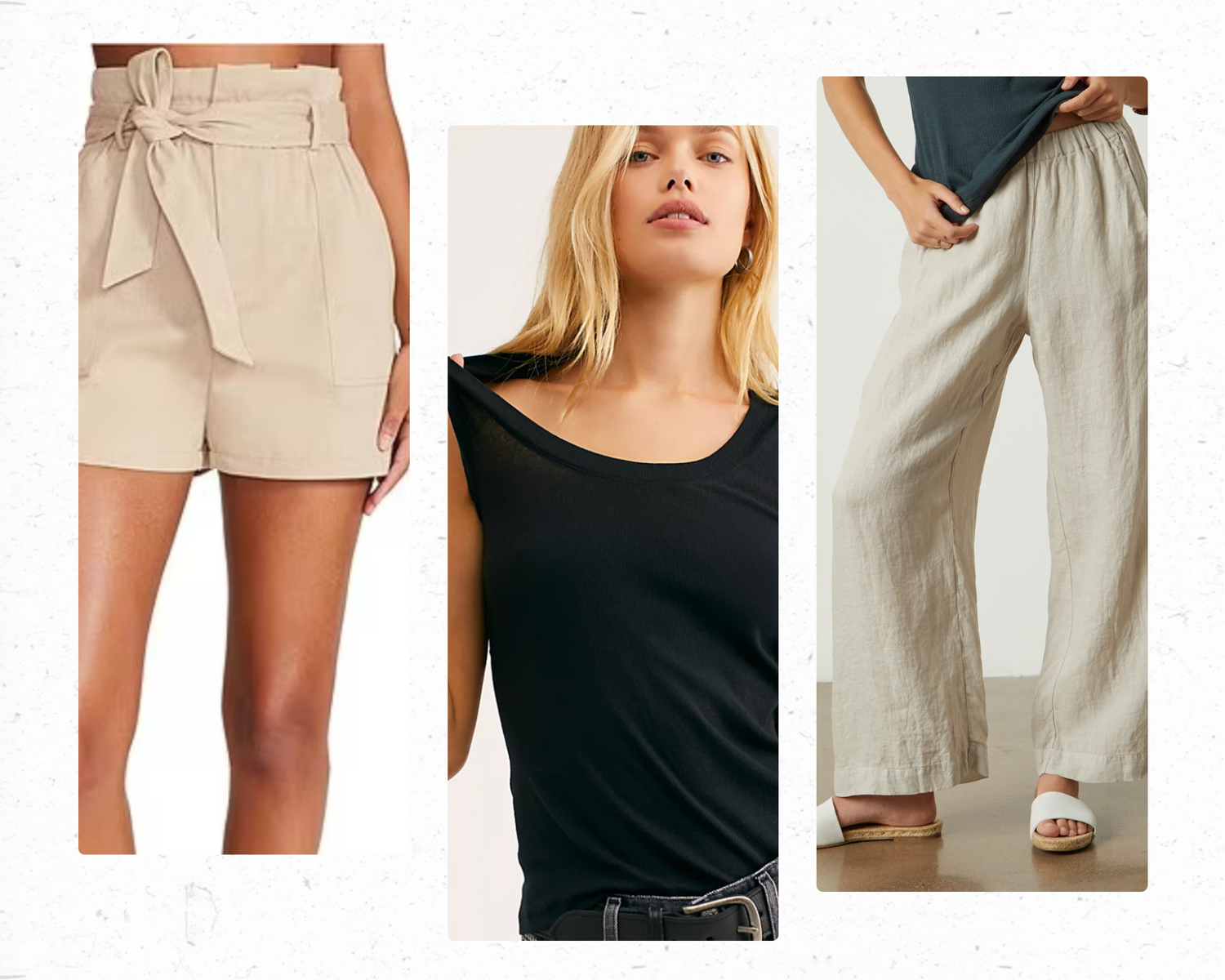 Have you heard of this concept?  Quiet luxury is the new non-trend 'trend' and from what I gather, it entails looking high-end, but not necessarily being high-end.  No flashy logos, no flashy anything really, a more timeless style approach that is looking to me very monochromatic.
This might be the best (non) trend I have found because you can pull this off without spending a ton, but if you have the means to invest in these pieces, you're going to wear them forever.  Like from 20 years old to 90 years old - type - forever.
This quiet luxury isn't necessarily a new concept.  It has been my general observation that people with money don't feel they need to flash it.  They just have higher quality things like cashmere sweaters and well-fitting trousers that last forever.  If you're interested in taking a stab at it, here are some suggestions.
Go monochromatic.  Get you basics on and stick with white - cream - black - camel or navy.  Don't mix these up in a blender, just pick one and go.
Black on black is always and easy and chic style option, but now that summer is on our doorstep, I like the white on white monochromatic look.  Here's a few great pieces to get you started.  The Farmers Market pants from Steve Madden are a great poly-elastane blend pant with pleats and pockets that look way more high-end than their $79.00 retail price tag.  Pair it with the Steve Madden Nico bodysuit ($39) and you're done.  This pleated French Connection skirt has a very subtle ombre, elastic waist, and at $98 still falls into the under $100 category.
Quiet luxury is also about looking like you're not trying to hard.  Think classics that will be in style for years to come.  Stick to a very neutral color palette.  There are certain color combinations that always look rich and chic.  You can not go wrong with a khaki color and black combination.  
These high-waist khaki Seaside Cinch shorts from Steve Madden are a great length for both young and mature women.  Pair these with a basic black tank like this U neck from Free People ($20) and you're country club ready.  Not a shorts girl?  Try these Lola linen pants from Velvet by Graham & Spencer.  At $169 they're more of an investment, but a style they repeat and sell out of literally every summer.  The pockets and angled seam cuts make them very flattering on many figures.
Khaki or tan with black has a richness to it that tops even black and white combinations.  These khaki Sausalito pants from Carve feature a raw hem at ankle with a heavier tencel knit fabric that feels much richer than their $98 price tag.  Pair with the Rowan Vest (Free People $78), Nico black bodysuit (Steve Madden $39), or Carrie tank (Free People $68) for the quiet luxury look all summer.
One thing you can do with your basics to look your best is make sure they are clean and pressed.  Any iron or steamer can make a big difference in looking chic vs. chlubby.  If they have holes or yellow pit stains they need replacing.  
This great basic white Rallie Crewneck t-shirt from French Connection is only $34 and has a heavy knit jersey fabric that helps smooth the body.  A great fitted crew neck you can easily pair with anything on your closet.  Another great basic from French Connection is their Rhodes Sustainable Poplin Boyfriend shirt.  This is a more oversized button down shirt, in that great crisp cotton material that always looks polished.
Just remember quiet luxury emphasizes the quiet with pulled back slick ponytails or buns and basic gold accessories.  An easy small to mid-size gold hoop is a great go-to with some black sunglasses to complete the look.  The best part about this non-trend trend is you don't have to feel guilty about investing in the timeless pieces that help pull it off, but you certainly don't have to spend a lot to participate.
Happy shopping!
Best,
Shole